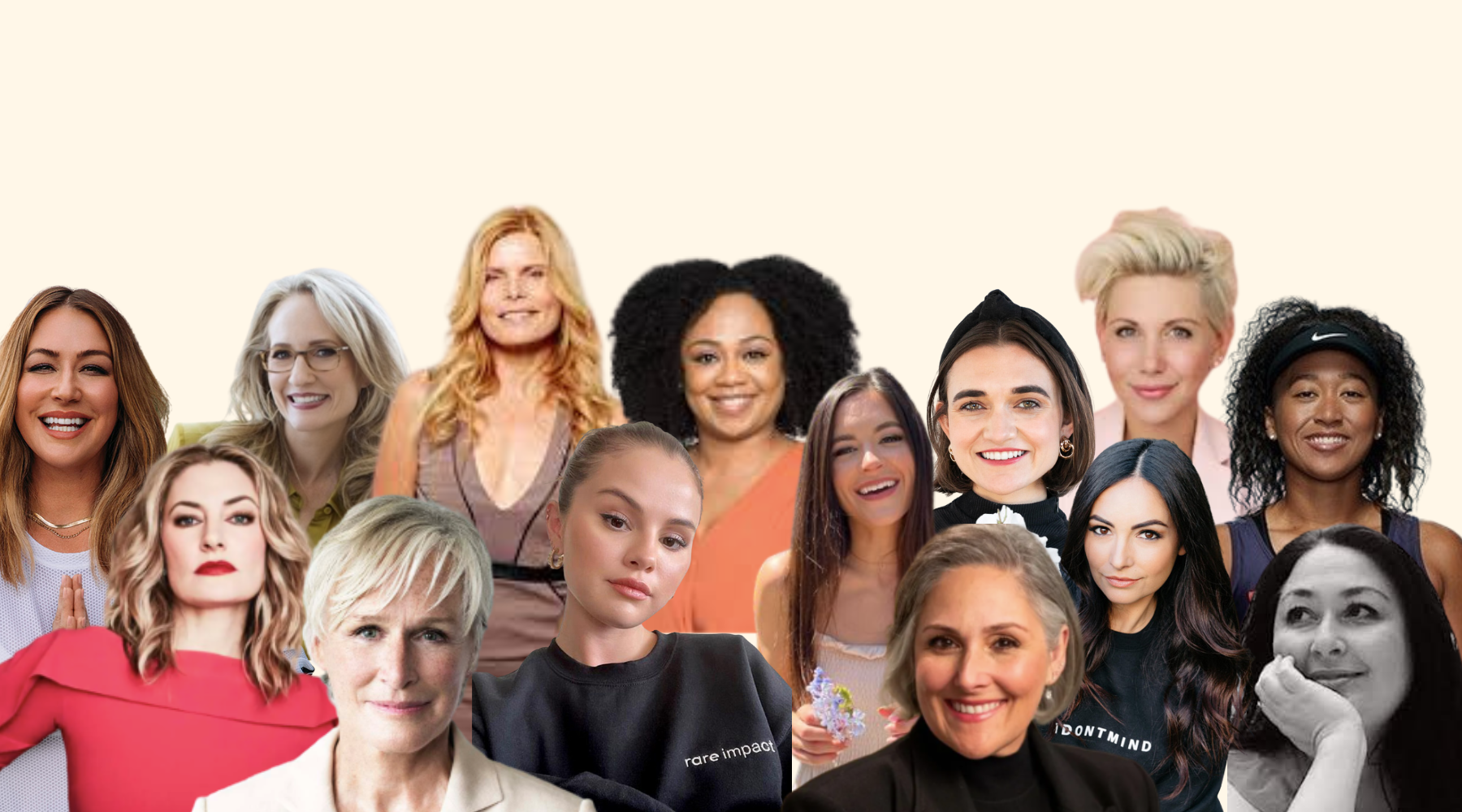 · By PYM STORE
15 Fierce Female Advocates in Mental Health You Need to Know About
March is Women's History Month, a time to celebrate the contributions of women throughout history and their continued impact on society today. One area where women are making a significant difference is in the field of mental health advocacy. These 15 women are helping to #endthestigma of mental illness and provide support to those struggling with mental health challenges.
Read on to learn about the cool things happening in the mental health space thanks to women, and how you can support them!
1. Dr. Joy Harden Bradford: Founder of Therapy for Black Girls
In an interview with Glamour, Joy Harden Bradford, Ph.D said, "Therapy for Black Girls is exactly the space I, as a Black woman, needed but couldn't find years ago. Now a therapist myself, I am so thankful that this platform exists to not only educate Black women about their mental health but also connect them with the help they are seeking."
Black women are an underserved population when it comes to mental health resources, education, and access. The combination of racism and sexism that Black women experience in a lifetime contributes to high stress and is associated with greater psychological distress.
To tackle this multifaceted issue, Dr. Joy Harden Bradford founded Therapy for Black Girls, with the goal to make conversations around mental health more approachable and more relevant for Black women by creating resources, content and experiences, such as a large social media community, a podcast, and a directory of therapists.
2. Larissa May: Founder of #HalfTheStory and Digital Wellness Advocate
"At the time I started #HalfTheStory, technology was my only friend. It was the darkest period of my life and I had a lot of time to reflect on the role it was playing in my mental health journey," Larissa (Larz) May, Founder of #HalfTheStory, said in an interview in Authority Magazine. 
May continues, "Through my mental health wellness journey, I learned that I had to start setting strong boundaries to improve my overall wellbeing." 
Larissa May is pioneering the Future of Digital Wellbeing as the Founder of #HalfTheStory, a non-profit that aims to empower the next generation's relationship with technology. She says her favorite PYM product is the Mood Magnesium! 
3. Glenn Close: Actress and Co-Founder of Bring Change 2 Mind
In an interview with BuzzFeed, Glenn Close said, "I think it's vitally important to talk about mental health because it will, literally save lives. Not talking about mental health issues means that the toxic stigma that is still out there will continue to keep people from asking for help, from getting the treatment they need and from helping people to understand that a mental illness is a chronic disease, like any other chronic disease. You are not your illness."
Award-winning actress & activist Glenn Close co-founded Bring Change to Mind in 2010 after her sister, Jessie Close, was diagnosed with bipolar disorder, and her nephew, Calen Pick, with schizoaffective disorder. 
Bring Change 2 Mind is a non-profit that aims to end the stigma surrounding mental illness by encouraging dialogue about mental health, and raising awareness, understanding, and empathy.
4. Selena Gomez: Singer, Actress, Mental Health Advocate and Founder of Rare Impact Fund
"Mental health impacts all of us, and we each have a role to play in ensuring that everyone — regardless of their background — has access to mental health services. I hope by sharing my own story and using my platform, we can empower each other and more young people to address mental health," Gomez said in a statement.
Selena Gomez, the most followed woman on the internet, is a long-time mental health advocate who has been open about her struggles with anxiety, panic attacks, and depression stemming from her battle with lupus.
In 2022, she released a documentary called My Mind and Me, detailing her physical and mental health journey. She is the co-founder of the Rare Impact Fund, which aims to increase access to mental health services for underserved communities.
5. Mädchen Amick: Actress and Co-Founder of Don't MIND Me
"Twin Peaks" and "Riverdale" actress Mädchen Amick, and her family founded Don't MIND Me after a long and difficult journey to her son Sly's diagnosis with bipolar disorder.
After months of doctors brushing off Sly's behavior as a drug addiction problem, the family finally found the right psychiatric hospital, which ultimately diagnosed him with bipolar 1.
"That's when they said, 'This is not an addiction issue, this is a mental health issue,'" Amick recalled in an interview with People. "As scary as that was, it actually became a relief because now it had a name and there was some pathway to try to figure out what to do about it."
Their nonprofit Don't MIND Me aims to create safe spaces for honest conversations in order to normalize and destigmatize mental health challenges, as well as connect people in need to resources. 
6. Karena Dawn: Wellness Entrepreneur, NYT Best Selling Author,  and Founder of The Big Silence
Karena Dawn is the co-founder of Tone It Up, a New York Times bestselling author of her book The Big Silence, and Founder of the charitable organization by the same name.
Growing up with a mother who was diagnosed with paranoid schizophrenia, Karena Dawn's childhood was filled with traumatic experiences that resulted in repressed emotions, guilt, shame and a suicide attempt. She knows from experience that suffering in silence only reinforces the stigma surrounding mental health issues and creates barriers which prevent healing.
This is why she founded The Big Silence, a nonprofit with the mission to provide resources and support to anyone directly or indirectly impacted by mental illness. 
7. Dr. Nicole Beurkens: Licensed Holistic Child Psychologist and Advisor of PYM
As a licensed clinical psychologist with advanced degrees in psychology, education, and nutrition, Dr. Nicole Beurkens is the world's leading holistic child psychologist.
She has dedicated her 25+ year career to providing parents with research-based strategies that get to the root of children's attention, anxiety, mood, and behavior challenges so they can reach their highest potential. 
Dr. Nicole says her favorite PYM product is the Stop Stress Bundle! She says, "I love this combination of products because we all have stress in our lives that we can use support to manage more effectively. The fast-acting Mood Chews bring a sense of calm and groundedness in the moment, while the magnesium supports better sleep and feelings of calm all through the day.
They work together to help kids and adults feel and function better, especially during times of increased stress and overwhelm."
She is also part of the team here at PYM, helping us to provide research-backed nutritional supplements to those struggling with stress and overwhelm!
8. Olivia June-Williams: Founder of Hey! VINA and Co-Founder of PYM
Our very own Olivia June-Williams is the co-Founder of PYM along with her husband Zak Williams. Inspired by their personal experiences with mental health challenges and suicide in their families, Zak and Olivia founded PYM, with the mission to to provide safe, natural and effective mental hygiene products. They aim to promote self-care and end the stigma around mental health. 
Olivia June-Williams is also the founder of Hey! VINA, a social networking app that helps women connect with other women in their area. The app aims to promote friendship and support for women who may be feeling lonely. 
9. Ricki Lake: Actress and Mental Health Activist
Ricki Lake is an Emmy Award-winning actress, television host, producer, documentarian, and activist, well-known for her role as Tracy in Hairspray.
In 2017, Lake's ex-husband, Christian Evans, died by suicide. Ricki has been open about his struggles with bipolar disorder which led to their divorce, and his death hit her hard.
She now advocates for more resources for those struggling with mental health, going so far as to serve as a trustee for Community Access, which is an organization that "expands opportunities for people living with mental health concerns to recover from trauma and discrimination through affordable housing, training, advocacy and healing-focused services."
10. Mariel Hemingway: Actress, Producer, Author and Mental Health Advocate
Mariel Hemingway's family has experienced 7 suicides, including her writer grandfather Ernest Hemingway, who suffered from undiagnosed bipolar disorder. 
In an interview with the Detroit Free Press, Mariel said, "I did suffer depression myself; it wasn't clinical depression, but I had a genetic predisposition for it," she says. "I grew up watching a family that was completely amazing and creative but also destructive and self-medicating. All of them, they were addicts. I didn't want to end up like that. I was on a mission."
Mariel Hemingway's mission is to bring a hopeful, accessible message to every corner of the world .She is an author, film/television producer and unstoppable voice in the ever changing conversation around living a healthier, more meaningful life.
11. Dr. Uma Naidoo: Harvard-trained Nutritional Psychiatrist and Best Selling Author
In her book This is Your Brain on Food, Dr. Uma Naidoo says, "The food you eat can have as profound an effect on your brain as the drugs you take."
Dr. Uma Naidoo is a Harvard-trained psychiatrist, nutrition expert, and the author of the books "This Is Your Brain on Food" and The Food Mood Connection, which explore the connection between nutrition and mental health. 
Dr. Naidoo is the Founder and Director of the first hospital-based Nutritional Psychiatry Service in the United States. She is also the Director of Nutritional and Lifestyle Psychiatry at Massachusetts General Hospital (MGH) & Director of Nutritional Psychiatry at MGH Academy while serving on the faculty at Harvard Medical School.
12. Margaret Hines: Co-Founder of the Kevin & Margaret Hines Foundation
Margaret and her husband Kevin Hines founded the Kevin & Margaret Hines Foundation after Kevin's attempted suicide by jumping off the Golden Gate Bridge, something only 1% of people survive. 
With his second chance of life, Kevin shares his incredible story of hope, recovery, and wellness, inspiring hundreds of thousands of people to reach out for help and choose life, hope, and healing instead of suicide.
Margaret has been instrumental in his recovery journey, and is a caregiver for other people who struggle with mental illness. 
The Hines Fund identifies and invests in film and media focusing on brain/mental health, wellness and suicide prevention. Margaret says her favorite PYM product is the Mood Biotics! 
13. Brit Bronson: Founder of SpaceMVMT and Bipolar Disorder Awareness Advocate
Brit Bronson was diagnosed with Bipolar 1 disorder and PTSD when she was 19 years old. She struggled for years and hit rock bottom at 25. After a long hospitalization from a manic episode, she finally accepted her diagnosis and wanted to make a change in her life.
She started doing public speaking to share her story and help others heal, and founded SpaceMVMNT, an organization that helps individuals thrive by lowering the barriers to access and practice mental, physical and spiritual wellness with intention, inclusion and purpose.
In an interview with Voyage LA, Brit says, "My passion for helping others manage their lives living with Mental Health conditions sets me apart from others. It requires a lot of patience, understanding, empathy and resilience to work so closely with people who cannot always control their behaviors. Every human is unique and has their own story to tell."
Brit says her favorite PYM product is the citrus mood chews!
14. Julia Broglie: Co-Founder of The Broglie Box
Julia was inspired to create BroglieBox after experiencing her own mental health challenges as a young adult and losing her older brother Justin to suicide when he was just 24.
For years, both Julia and Justin suffered to varying degrees with anxiety, depression, and OCD. Justin's passing inspired Julia to imagine a new way to deliver self-care support and connection in today's hectic, fast-paced and often impersonal world.
The BroglieBox is a company that creates pre-built boxes for your specific self care needs, or you can send them as a gift to a loved one to show your care and respect for that person!
15. Naomi Osaka: Professional Tennis Player and Mental Health Advocate
Naomi Osaka became one of the first international sports stars to talk about mental health struggles publicly, leading to other fellow athletes to open up about their own mental health challenges.
The four-time Grand Slam winner shocked the public when she pulled out of the 2021 French Open to preserve her mental health. She revealed that she had been struggling with depression and anxiety for years.
"I felt like it was necessary, but I kind of felt ashamed in that moment because as an athlete you're kind of told to be strong and push through everything, but I think I learned that it's better to re-group and adjust the feelings you have in that moment and you can come back stronger," she said on The Late Show with Stephen Colbert.
Summary
These 15 women are just a few examples of the many women who are working to #endthestigma of mental illness and provide support for those struggling with mental health challenges.
Their dedication and advocacy efforts are helping to create a world where mental health is treated with the same urgency and importance as physical health, and where people feel empowered to seek the help they need. Let's celebrate their contributions and continue to support mental health advocacy efforts throughout Women's History Month and beyond.