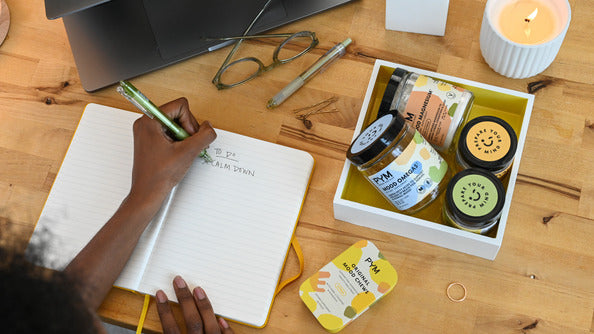 · By PYM STORE
How to manage financial stress over the holidays
Though the holidays may appear to be merry and bright on the outside, for many people, what they feel on the inside is the exact opposite.
Stress often seems unavoidable come every holiday season, but this year stress feels even harder to evade, thanks primarily to inflation. The United States is experiencing the highest inflation our country has seen in 40 years, and that's definitely putting a damper on holiday cheer. 
A recent survey revealed that 68% of respondents felt holiday spending would make their stress even worse this year. The pressure to buy gifts for your loved ones is a common challenge faced every year. The time it takes to come up with the idea for the perfect gift, find said gift, and of course shell out the money for it can be quite taxing on your stress levels. Then you throw record-setting inflation into the mix and it's no surprise that this time of the year feels like a lump of coal. 
Rather than let yourself sink into a black hole of stress, we've come up with some ways for you to manage your financial stress so that you can eat, drink, be merry, and actually enjoy this holiday season. 
5 Tips for managing financial stress during the holidays
1. Track your spending
You'd be surprised at how $5 here and $5 there can add up quickly without even thinking about it. To help you feel less stressed about money this holiday season (and throughout the rest of the year), start tracking where you spend your money. 
This doesn't mean you have to set up a budget quite yet (though that need may come in the future). Just start by looking through your bank and credit card statements and seeing where your money is going. 
The necessities are just that and shouldn't be given too much thought when it comes to money going out for things like rent or mortgage, groceries, car expenses, health insurance, etc. However, what you really want to give special attention to is the stuff that isn't a necessity. The most common offenders for that are:
Eating out

Traveling

Streaming services

Credit card interest payments

Expensive exercise classes 
One month of tracking your expenses is all you'll need to get a wake-up call regarding where you're spending in excess and where you can cut costs to feel less financially strained.  
2. Lower gift anxiety
The self- and societal-imposed "need" to give the perfect gift to everyone on your list can be draining on your mental health as well as your wallet. 
You can solve this by doing a few things.
Ask the people on your list what they want rather than trying to guess. This cuts to the chase and saves you a lot of time and energy.

Consider doing a gift exchange with your family and/or group of friends rather than each gifting something to everyone. They will surely welcome the reduction in financial stress for them too that a gift exchange brings.

Gift them an experience or special time with you rather than a tangible gift. These types of gifts typically mean far more than an expensive handbag or another tech gadget. 
3. Ask for help
If you feel overwhelmed by financial stress and can't find means of coping with it on your own, turn to a friend, family member, or professional for help. 
With over ⅔ of the American population experiencing financial stress around the holidays, you are not alone in your feelings. There are many people out there who can relate, and also many people out there who can help.  
4. Make self-care a priority
In the season of giving, don't forget to give to yourself, especially if finances have got you feeling stressed. 
And no, self-care doesn't have to look like a $300 massage that will make you even more financially stressed. There are a number of free or low-cost ways you can give yourself some love this time of year.
Journal

Exercise (you don't have to attend a $30 yoga class to do this)

Take a bath

Read

Go for walks in nature

Cook nourishing food

Color

Limit time on social media
5. Turn to supplements
Your excessive stress during the holiday season may also be a result of a neurotransmitter deficiency. Don't let that term worry or scare you. A neurotransmitter deficiency simply refers to a situation in which the levels of neurotransmitters in your brain such as serotonin, dopamine, GABA, and more are off-balance. 
We've all been there when our serotonin feels lower one day than it did the day before. If this is your natural state during the holiday season, there are some supplements you can turn to to help boost your neurotransmitter levels back up and balance out that stress. 
Magnesium.

This nutrient is often called the "chill pill" because it helps to keep you calm due to its ability to block the receptors in your brain that tell you to go into stress mode.

Our tasty

Mood Magnesium

powder contains three different types of magnesium that have been shown to support stress.

 
Vitamin B.

This vitamin has been revealed in studies to

help reduce stress

.

We created a powerful methylated B vitamin,

Mood B Complete

, that offers immediate absorption and helps to lower stress and anxiety.

 
Set your body up for less stress and instead success this holiday season by taking advantage of our Black Friday sale. Take 30% off everything on our site with code BLACKFRIDAY30 and enjoy free shipping that will have your stress-reducing supplements in your hands in no time.