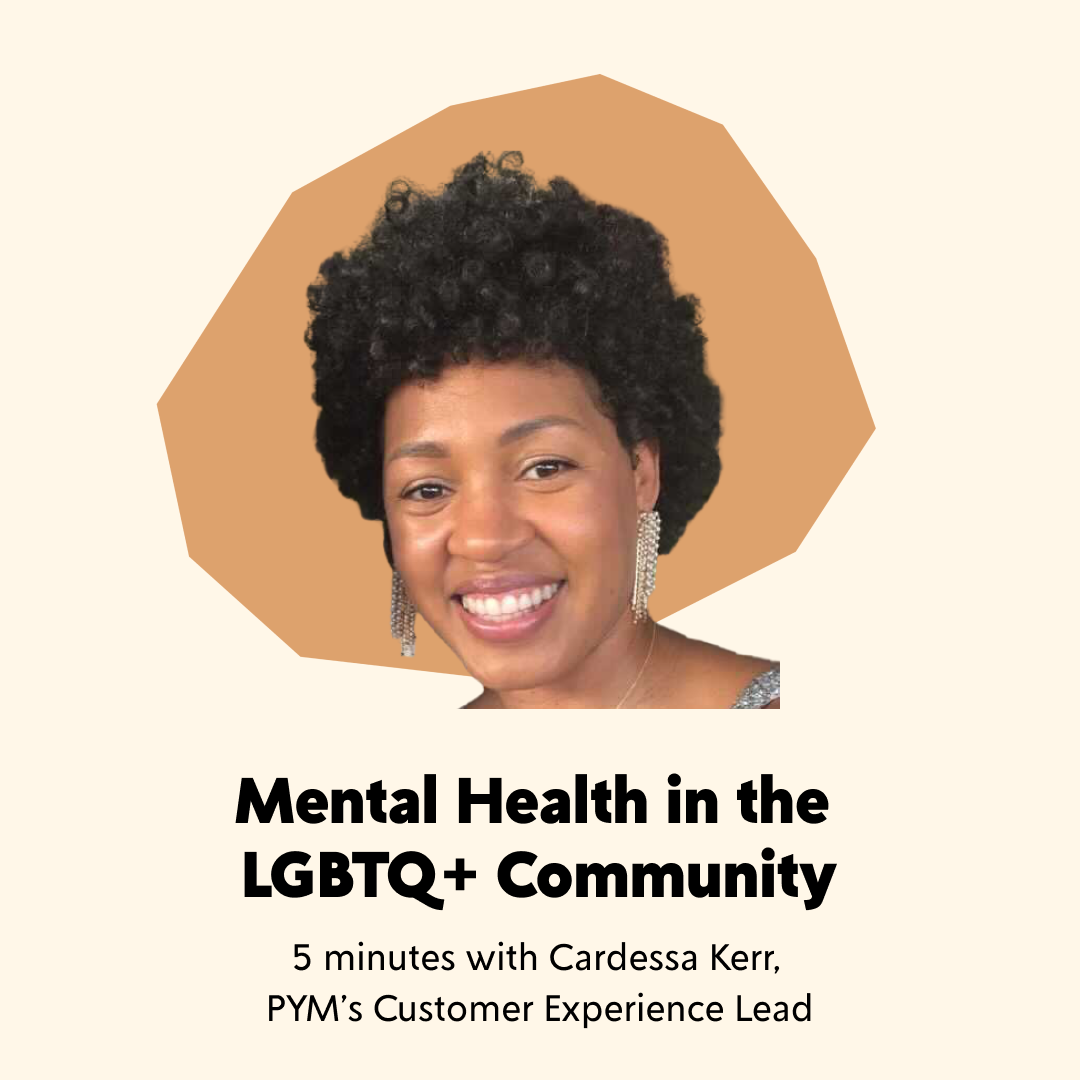 · By PYM STORE
Mental Health in the LGBTQ Community
5 minutes with Cardessa Kerr, PYM's Customer Experience Lead on mental health in the LGBTQ+ community and her personal journey towards Pride.
What do you think people can do this pride month to raise awareness about mental health?
Educate yourself! Just like you can learn all the features of the latest iPhone, you can learn about pronouns, trans issues, and other facets of the LGBTQ+ community. With all the information at our fingertips, there's no excuse to remain ignorant.
What are you excited to do this pride month?
This Pride I am exceptionally proud of being newlywed to my lovely wife. I'm excited to love out loud because visibility and representation matter. My wife firmly believes that visibility precedes acceptance, and that people need to be exposed to what love looks like in all its forms.
Why is mental health advocacy important in the pride community?
Mental health is paramount in the LGBTQ+ community, because we have historically faced a spectrum of obstacles from homelessness, abandonment, rejection, joblessness, lack of adequate health care and more that weigh heavily on a person's psyche, self-worth and wellbeing.
What does pride mean to you?
Pride is seeing yourself for everything you are and letting yourself be seen as who you are, without shame, without minimizing. Pride is an iterative process, something you can practice daily, not just in June. Pride is accepting how far you've come and celebrating where you are today.
How did your mental health journey begin?
My mental health journey began at 10 years old. My mom struggled with addiction and my parents put me on a one-way train from L.A. to Houston for a two week visit with relatives that turned into the rest of my life. Each day posed a mental battle between anguish and optimism. Later in my adolescence, coming out came with alienation, shame, and rejection and I was forced to cultivate strength and courage to be me in the face of opposition. I've carried that strength through adulthood, through my military service and I am honored to use my experience to empower others.
Why is acceptance of others important?
Everyone walks their own path and encounters unique circumstances that make them who they are. To accept others is to acknowledge the diversity of the human fabric.
What's your advice to others who are struggling with self-acceptance?
Self-loathing, denial, isolation, avoidance, conformity...these are common stages along the path to self-acceptance. My advice: Always be gentle with yourself. Borrow strength from others living their truth. See yourself through the lens of a loving, supportive parent, even if you don't/didn't have one. If you were your own mom or dad, how would you show up for you?
You already know we believe mental health is just as important as physical health — that's why for the next 24H we'll be giving back to @trevorproject, the leading national organization providing crisis intervention and suicide prevention services to the LGBTQ community. Want to support? Simply go to PYM's Instagram.