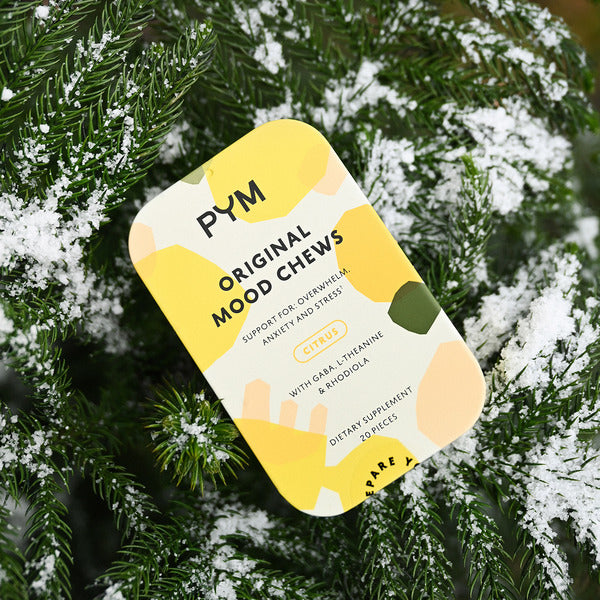 · By PYM STORE
The Ultimate Mental Health Holiday Gift Guide
At a time of the year when stress is flowing like wine at holiday parties, we are willing to bet that you've got some people on your holiday gift list who could use some presents that support their mental health. 
Rather than cause you additional stress in trying to come up with the perfect gift (gift anxiety is not what we are going for), we've made things easier by putting together a list of some fabulous mental health gifts to give your loved ones this season. 
Mental Health Gift Guide
1. Weighted blanket
Gifting a cozy blanket in the wintertime is always a good idea. But, it's an even better idea when that blanket is weighted.
Studies show that weighted blankets may serve as a great tool to reduce anxiety, so why not gift your stressed or anxious loved one a weighted blanket to help them relax? This can be a blanket to enjoy on the couch after a long day or a comforter on their bed to help them achieve a good night's sleep. 
There is no shortage of options when it comes to weighted blankets. Most of them are made with glass, plastic, or steel beads that provide the weight.  If you're looking for something different, you can opt to get them a blanket whose weight comes from heavy fabric, like this fan favorite from Bearaby. This weighted blanket also doubles as a cooling one for those who tend to get warm under other weighted blankets. 
2. Journal
If you've got someone on your holiday gift list that often seems overwhelmed by anxiety, stress, or any kind of negative feelings or emotions, gifting them a journal may be the best thing you've ever done for them. 
Journaling has proved time and time again to be a highly effective way of managing and dealing with anxiety and other mental health struggles. It works best along with other forms of mental health management including meditation, exercise, supplementation, and more. 
The options for journals to gift are endless. You can choose a plain journal that allows their mind to fully wander, such as a classic Moleskin. Or, you can gift them one that has prompts to provide guidance on the art of journaling. 
One of our favorites for those who don't consider themselves "journalers" is The Five Minute Journal. This features prompts for gratitude, daily affirmations, and more. 
Get the Five Minute Journal here for $29
3. Adult coloring book
As adults, sometimes we get too focused on adulting and forget to play and do things that take us back to childhood. If you have a friend or loved one on your gift-giving list that could use some help in channeling their inner child, then a great way to do that is by gifting them an adult coloring book. 
An advanced take on the coloring books of yesteryear, the adult versions are more challenging, which is great for mental health. They create a fun way to get rid of excess energy that often leads to anxiety, and serve as a peaceful yet active way to calm down and return to the present moment.  
Rather than turning to social media in times of anxiety (which often exacerbates the situation), they'll have a coloring book from you to bring them back to a place of stillness. 
Get this artistic floral one for $15
Get this fun one with great reminders for $15
4. Mental hygiene kit
As far back as most of us can remember, we were taught to be hygienic: brush our teeth, shower daily, wash our hands, etc. But many of us weren't taught the concept of mental hygiene, which is just as important. 
The neglect of taking care of mental health on a daily basis can lead to all sorts of struggles. If you've got someone on your list this holiday season who could use some mental hygiene, we've got the perfect thing: PYM's Mental Hygiene Kit. 
We created this kit to make it easy to get all the essential nutrients the brain needs to achieve a balanced mood, all in one place. 
Included in this kit they'll get:
Mood B Complete

. Methylated B vitamins to help increase energy, balance mood, and improve mental clarity. 
Mood Magnesium.
A yuzu-flavored magnesium powder to support stress responses, improve cognition, and help with sleep. 
Mood Biotics.
A psychobiotic blend to help your gut and your brain align to achieve a good mood and support the body's stress response. 
Mood Omegas.
Sustainably-sourced omega-3 fatty acids to help increase focus, reduce inflammation, and improve cognition. 
Get the kit here for $125, or a subscription for $100/month
5. Meditation app subscription
It's no secret that meditation is major for mental health. However, it can be quite challenging at first to get into the meditation mindset. We are so used to having our minds run a million miles a minute. 
So, if you've got a loved one on your list who has expressed their struggle with meditation, we've got a great way for you to help: a meditation app subscription. 
There are some great options out there for meditation apps that provide guidance to those who are either new to meditation or simply struggle to do it on their own. They have options galore as to the different types of meditations, the goals, the lengths, the level of guidance, and more. 
Some of our favorite meditation apps are:
Prices vary depending on the app
6. Light projector
In a world where visual stimulation never sleeps, sometimes what's best for the mind is a break from all of that excessive stimulation and some time in visuals that elicit a feeling of groundedness and relaxation. 
We are talking about light projectors, and we're willing to bet there's more than one person on your holiday gift list that would love to unwrap one of these this holiday season. 
Not only are light projectors pretty to look at, but they also do wonders for mental health when it comes to returning to the present moment. All they have to do is set up the projector in a room at their home, turn off the lights, and they'll find peace much more quickly and easily.
You can choose from ones that project the stars and planets, other designs, or simply colors. A favorite is the Sky Light 2.0 which you can control via the BlissLights app, and also features effects, brightness modes, and a timer.