Free Self-Care for Caregivers Guide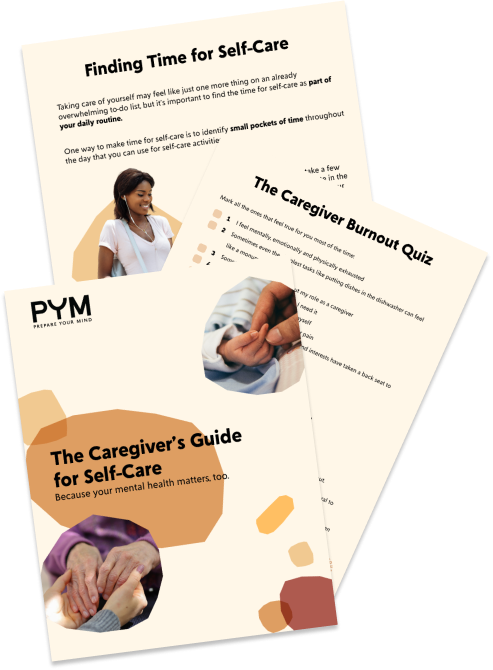 What's inside:
How to find time for self-care in your packed schedule
How to find support and ask for help
Mind-body relaxation techniques for caregivers
How to eat for your brain health
How to increase resilience to stress
What to do when you've reached a breaking point
This downloadable workbook is for you!
| If you... | And you want to... |
| --- | --- |
| 👎🏼 Feel physically and mentally burnt out from your caregiving responsibilities | ✨ Have increased energy and peace of mind |
| 👎🏼 Feel guilty for putting your needs first | 🙌 Take care of yourself without guilt or shame |
| 👎🏼 Have no idea how you'd find the time for self-care | 😌 Incorporate self-care without adding more to your to-do list |
| 👎🏼 Have trouble asking for help | 💪 Confidently ask for help without feeling like a burden |
| 👎🏼 Worry about your own health due to the stress of caregiving | 🤗 Take care of your long-term health |
PLUS get an EXCLUSIVE discount code to all products in our store to take your self-care journey even further 🥳
ABOUT PYM
We at PYM, we are passionate about self-care because it is so critical for mental health. We are on a mission to end the mental health stigma and help people develop a mental hygiene routine with safe, effective, all-natural ingredients, so that we can all be our fullest, most vibrant selves in the world.
All of our products were formulated by neuroscientists, nutritionists, and psychiatrists to increase the health of your neurotransmitters like serotonin, dopamin, and oxytocin, which boost your overall mood, self esteem, confidence, and sense of belonging.